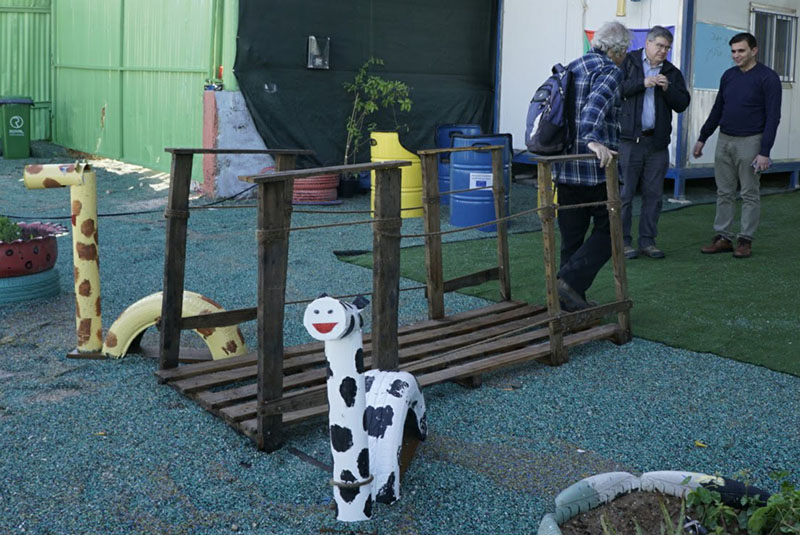 In Idhna, a small community on the outskirts of Hebron, the Green Land Society for Health Development (GLSHD) has established the Environmental Education Center to demonstrate and educate about how plastics, tires, and other discarded materials can be refurbished and recycled. The Environmental Education Center provides workshops for area schools as well as occupational safety training for people working with hazardous materials (such as metals associated with electronic equipment. )
In 2018, SIPP was able to provide the Green Land Society for Health Development with a modest grant to help support operational costs, and brought GLSHD's Director to Boulder in 2019 to learn about US environmental education and recycling practices. He met with numerous organizations and observed environmental curricula taught to elementary and middle school students.
Between November 2018 and February 2019, supported by a grant from SIPP, approximately 300 students from 12 area schools visited the Center. The school visits included lectures, hands-on activities, and student competitions. Importantly, most of the schools committed to incorporating some of the recycling concepts back in their schools.
The Center also created several "new" projects to demonstrate how waste materials can be turned into functional and/or artistic items. These include chairs and tables (discarded wood), play structure (discarded wood, tires and scrap metal), and a plastic tree (discarded nylon bags and plastic containers).
In 2020, the Center created a environmental curriculum (see link) and enhanced its hands-on interactive displays. With SIPP's assistance, the Center recently obtained a biogas digester to demonstrate how organic waste can be converted to cooking methane and plant fertilizer.
The Center, in parternship with SIPP, the Boulder Rotary Club and the Jerusalem Rotary Club, is also launching a computer refurbishing center to divert old computers from disposal and illicit metal reclamation (open burning).