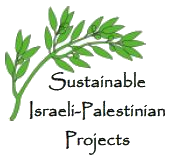 Sustainable Israeli-Palestinian Projects (SIPP)
RSVP Form
Celebrate SIPP!
Saturday, December 9, 2017
7:00 - 9:00 pm
At the home of Robert and Tara Winer
Boulder
Click here for more information.
Suggested Donation - $60 per person. Everyone is welcome.
You can also make a donation to SIPP by clicking here (PayPal):
Your financial support and/or your engagement is greatly appreciated.